How I take photos (Part 1)
The key point is maybe ambition — I want to take pictures that are interesting: They should tell an interesting story, freeze an interesting moment or show an interesting perspective. Maybe 0.1 percent of the pictures I take truly accomplish that, and so throwing away lots of pictures is one cornerstone of my photographic strategy. Honestly, I delete easily 80 % to 90 % of my photos because they have technical flaws or are just boring. That's like goldpanning: 1 g of pure gold is more valuable than 1 g of gold mixed with 11 kg of gravel.
Where I take photos
I never created pictures "from scratch" so far. I don't set up light, scenery, people etc. exactly like I imagine, but I start from a "real" situation. That's something I really enjoy: To go out in the fields and catch interesting stuff with the camera.
Some people, as I heard, would take a macro photo of a bumblebee by catching one, putting it in the fridge, cutting a flower in the garden and setting up the dazed bumblebee on the cut flower inside their photo studio. I mean, the picture certainly gets good because the photographer can use all kinds of equipment and has full control over light and background. But I don't like the fact that the picture would be an illusion. Instead I prefer to go out in the field and run after bumblebees to show what they are actually doing — how they hover in front of flowers or how they dip their tongue in the nectar, for instance.
That means I rarely take pictures at home: Maybe when there's a party or when a cellar spider is having babies. Otherwise I find my subjects outside and my photo trips are more like hiking tours with prologed photo breaks. That is reflected in my...
...Equipment.
The most expensive and powerful camera is pretty useless if it's inside its bag at home because it's too heavy to carry around. On a hiking trip or for small recreational tours I find an SLR camera too bulky, so I prefer a compact camera. An SLR I only carry if I already plan to take lots of pictures. From my experience you can take good pictures with every camera (and bad pictures also). Different cameras just offer different technical possibilities and allow you to take different kinds of pictures. One of my personal favourites was actally taken with a cell phone camera: An invaluable documentation of my activities in Finland.
My current compact camera is a cheap and crappy one I got as a gift four or five years ago. It still takes acceptable pictures, at least as long as you don't zoom in too much. When it finally drops into a bottomless chasm or something like that I will only feel sad for the pictures on the memory chip!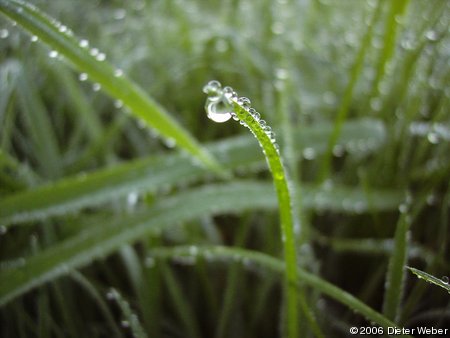 Tau auf Gras
Taken with my compact camera. Every camera with a macro function can take such pictures!
If I could choose a compact camera today, I'd get one with 6 to 10 MPix sensor, short "boot time", fast autofocus, low trigger delay, a big, bright display, long battery life, 3x zoom lens with macro and really slim case. Maybe it could also be waterproof to a depth of 3 m.
SLR cameras
I love them! But with the cheap lenses the manufacturers sell together with them they're just expensive, bulky compact cameras with lots of useless extra buttons and functions. Those lenses have small numerical aperture, meaning they don't let much light through, and the one that came with my parent's Pentax K10D even makes blurry pictures because of extreme lens errors.
For me SLR cameras only make sense if you have at least two or three different high-quality lenses. With my parent's K10D I often use decades-old fully mechanical lenses with fixed focal length. They don't have autofocus or automatic aperture adjustment, but due to their simple optical design they have almost no noticeable lens errors together with an incredible aperture. Thanks to Pentax' strong dedication to backwards compatibility they work just fine with the K10D. The only autofocus lens I use is a 100 mm, f=2,8 macro lens. Autofocus and automatic exposure adjustment are pretty useful if you are hunting fast small animals!
One of my favourite subjects is macro photography, and there a SLR camera allows you to set the focus exactly where you want. The focussing screen still gives a much better picture than displays which is really important because the depth of focus might be less than a millimeter.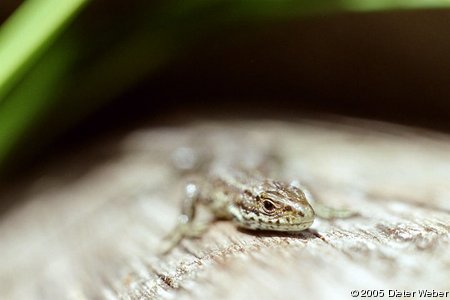 Eidechse
Eidechse im Dosenmoor.
Subjects
I like to take pictures of people, flowers, animals and landscapes. To me it seems that it is much easier to take interesting pictures of people, animals and flowers than interesting pictures of landscapes. Having people somewhere in the landscape often helps. A dramatic sunset, a sky full of clouds and the soft, warm light of the morning and evening hours can make landscapes more photogenic.
Panoramas
Even with a wide-angle lens the landscape often just doesn't fit on the picture. Think for example of the view from a high mountain, with even higher peaks in the background and a deep valley in front of you, spanning 180° horizontally and more than 90° vertically. With a standard wide-angle lens I could just get a snippet which often cannot show the full beauty of the view. But with suitable software that is freely available,like "hugin", you can "stitch" several pictures together, resulting in one big picture. Even 360°-views are possible.
For such large pictures I find computer screens too small. You either don't see any details, or you have to scroll like crazy. Big prints from large-format color printers might be a solution and I'd like to experiment with that a bit in the future.
The software hugin is worth a blog entry by itself. Bad news: You need a camera that can take several pictures with the same exposure settings (I use an SLR camera), and for real good panos you need a tripod. But the results are impressing and I usually get positive feedback on the pictures.
Animals
I try to always get the head and especially the eyes on a picture. If you look at a person or an animal, your first look goes there, and if you can't see head or eyes, something seems to be missing. That is especially important for macro photography where you often can't get everything in focus. If the eyes are blurry, the whole thing seems to be out of focus.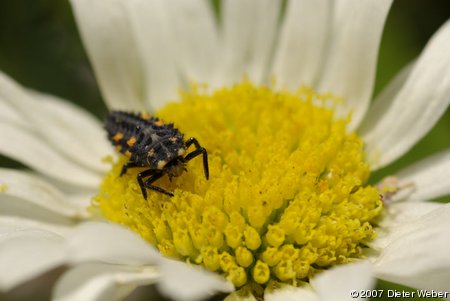 Marienkäfer-Larve auf einer Margeritenblüte
If your subject is looking directly at the camera you can get even more tension.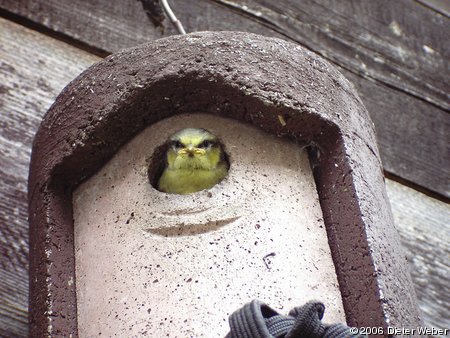 Blaumeise
Von Angesicht zu Angesicht
People
When people see a camera pointed at them, few react all naturally. Some try to get away and hide, some others pose and smile from one ear to the other, and a few make faces. All three can result in interesting pictures, but sometimes you want to get people looking "naturally". I use several approaches:
Sneak up to them while they are distracted
Use lenses with long focal length
Pretend to be fiddling with the camera and catch them off-guard
Take several pictures in short intervals because they often relax after the first picture and can't keep their posure for longer time
For portraits I prefer to use a lens with 50 or 100 mm focal length because otherwise the face looks distorted. A wide aperture can make the skin look smoother and helps to separate the face from the background. Also here I always focus on the eyes, and the nose and mouth should be in focus, too.
In groups of people the probability P of one blinking or making a stupid face in the moment you push the shutter release grows exponentially with the number of people follows a law of the form P = 1 - pn, with p < 1 being the probability of one person to look good and n being the number of persons.
The only solution to that equation I found until now is to take LOTS of pictures. LOTS means at least 20. I find it quite difficult to keep people entertained, many react a bit irritated if you you let them pose again and again for 30 minutes. Unfortunately people generally don't like pictures of grim or bored-looking people, so I keep talking and waving to get people laughing and looking at me. As long as people listen to me, they shut up! People talking to each other is fatal because most people look REALLY stupid when they have their mouth open.
Flowers
I think of a flower as the face of a plant. That means, if I take plant pictures a flower in focus should dominate the picture. The stigma and stamen are the "eyes", so they should always be in focus, at least partially. With compact cameras that is rarely an issue because of their huge depth of focus. With SLR camera, macro lens and big aperture because of dim light it is however extremely important. I try to place the focal plane in such a way that main features (some petals, stamen, stigma, some leaf) are in focus and provide an outline of the flower's shape.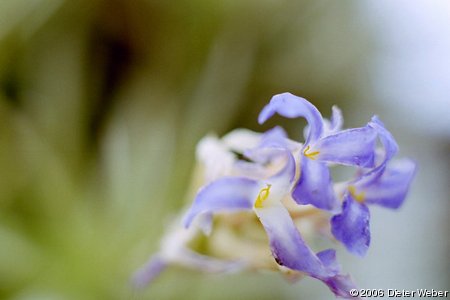 Tillandsia bergeri Blüten-Detail
Low depth of focus: Concentration on the flower.
Although I find it more difficult to place the focal plane, pictures with low depth of focus help to concentrate the perspective on the flower. With bigger depth of focus I get lots of disturbing background features on the photo, while at low depth of focus the background is just blurry and the flower hovers in front of it.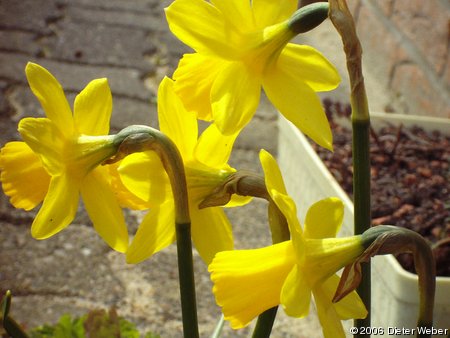 Osterglocken
High depth of focus: Junk in the background
Processing
For a long time, especially while I took pictures on film and not digitally, I didn't alter anything but took the pictures how the processing service made them. Now with digital photography I sometimes like to readjust the exposure , black, grey and white levels and color balance. With JPEGs that's not so much fun because they have a low dynamic range. Underexposed parts usually fade to black and overexposed parts are just white. Additionally I lose quality because of repeated JPEG compression.
With camera raw data it's much more fun to play! I use the Open Source software UFRaw. With this software I can control in every way I want how the brightness information from the sensor pixels is mapped onto the 24 bit color space of conventional image files. You can do pretty crazy stuff with that: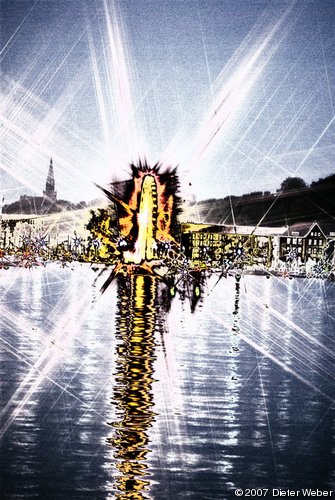 Riesenrad
For comparison: This is the original picture.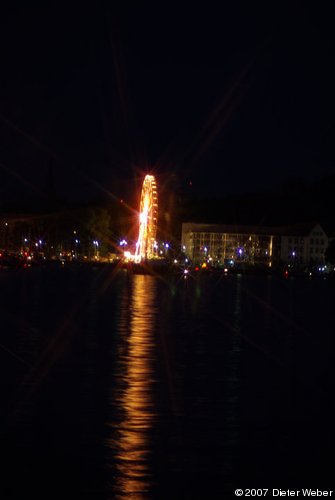 Riesenrad
But it is also useful just to balance colors and contrast in different parts of the histogram: In the next picture I pulled the background from light grey to white and I strongly enhanced the light bluish color of the tit feather as well as the contrast.
Meisenfeder
Farben verstärkt mit ufraw
Presentation
I hate when people show me hundreds of pictures that essentially depict the same! So I like to select only the best and most interesting of my shots and show only a few at a time — at least as long as I can hold myself! To manage my pictures I like software where I can rapidly switch between pictures, delete bad pictures with one keystroke and otherwise arrange things how I like to. I don't like big hierachical folders because it's a pain to find stuff if you deal with 1000 files or more, but I prefer a flat, tagging-like approach.
For online presentation I use a home-brew PHP software where people can browse online through the ordered, named and categorized pictures and where I can upload and arrange pictures. For some time I kept all my pictures there but recently I deal with high-resolution raw camera data, and that's in several ways not compatible with that software. The long delays when the software loads a picure or applies changes increasingly get on my nerves, so I think I'll have to look for something new or write it myself. Let's see...
To be continued...
In the next part I'd like to write about special situations like night shots, photography with a microscope and stuff like that.